We don't need to pump you with statistics to demonstrate what a catastrophic year 2020 has been for Australia. In the wake of the tragic bushfire crisis, we saw a mere moment of relief before the COVID-19 pandemic took hold and tore apart lives, jobs and businesses.
In darkness, however, there can be light. Today, Judo Bank shares some of the most compelling examples illustrating the true magnitude of the COVID-19 crisis, before exploring the unexpected reasons to smile.
The Dark: How COVID-19 Scattered Overnight Sorrow Across Australia's Economy
Even the lucky country had nowhere to hide where unemployment was concerned, as lockdown measures and mandatory business closures saw unemployment spike in rapid form. The official unemployment rate is predicted to reach 10 per cent in the June quarter. High unemployment invariably means poor business performance, which comes as no surprise as one in 10 businesses have paused trading all together. Among the hardest hit industries was hospitality, with 70% forced to drastically reduce staff hours. Many businesses are left to limp through the darkness on coffee orders alone, in the absence of the booming brunch market and loss of the Q2 public holiday demand surge. Education and tourism follow suit in the slew of bad news, as overseas students and visitors – and their $45billion worth of tourism dollars – remain locked out of Australia for the foreseeable future. With all that said, Australia is in a somewhat more favourable trade position when compared to other countries, with exports representing only 23% of GDP. The country also has capacity for both monetary and fiscal responses, with politicians and policymakers declaring a willingness to act when necessary.
The Light: How COVID-19 Forced us to Finally Slow Down
It is possible to look for cracks of light in a crisis without trivialising the severity of what's going on. Rather, zooming out on the situation and looking for the positive can be incredibly beneficial for our mental health. This once-in-a-generation experience has changed us, possibly forever, and in some ways those changes may be for the better.
Environmental pressure
Environmentally, less cars on the roads, less planes in the sky, less mindless consumption and a shift towards essential-only operations has drastically relieved the pressure that modern life places on our planet. In March alone, nitrogen dioxide levels in the lower atmosphere were reported to be down 60% on the same period last year.
Booming industries
In a somewhat bittersweet eventuality, some tech companies have in fact boomed since the pandemic took hold. Video conferencing app Zoom reports increases in share prices surging, while programs like Trello, Slack, Asana and Monday have also seen a rise in users as even the most unexpected of organisations are forced to move online. Retailers have seen unprecedented demand for home entertainment, home office and food storage equipment, too. Beyond profit, this keeps the money flowing through the economy, and more Australians in jobs.
Employment opportunities
As thousands of jobs vanish, some sectors have seen a surge in available roles. Government functions like Centrelink, the ATO and the Department of Health have all taken on additional staff to handle the overwhelming workload, while major supermarkets announced thousands of extra roles very early in the crisis. This announcement created immediate opportunities for new employment, for those who suddenly found themselves out of work in the first wave of shutdowns.
Redeployment programs have seen aviation crews take up work in supermarkets and hospitals, too, which has kept people in employment and fostered a true sense of community as multiple worlds collide.
Relaxing of Strict Corporate Policies
As employers realise businesses can still function without a bums-on-seats attitude, employees have gained the respect that's been missing from the modern workforce for many years.
The onus has been on employers to ditch archaic policies and put humanity over profitability for the first time. Lululemon and Walmart promised to pay staff for scheduled hours despite store closures, while US supermarkets gave 10% pay rises to staff for their efforts. Amazon used a surge in demand to give pay raises to staff, Starbucks expanded its mental health program to support eligible workers with online therapy sessions, while Apple and McDonalds expanded sick leave capacities to offer unlimited paid leave for those with Coronavirus symptoms.
These acts of compassion have extended beyond employees, too. America's big banks have stopped all stock buybacks for the 2nd quarter in order to maintain their solvency and liquidity for customers during the outbreak, while global travel companies have relaxed notoriously watertight refund and return policies to accommodate customer losses.
Learning opportunities
Those out of work have been empowered to learn new skills that will equip them for a robust return to the workforce, with LinkedIn offering 16 of its learning courses for free. Adobe has followed suit, giving higher education and K-12 institutional customers additional access for their students and educators. Others have found time to take free Skillshare courses, Google Garage and TAFE has even opened up a suite of free courses for those affected by COVID-19 job loss.
Donations and essential resources
Humanity continues to prevail in terms of charitable donations and pivots to manufacture essential resources. Luxury fashion houses were among those to step up, as Dolce & Gabbana announced that it has partnered with Humanitas University to fund a coronavirus research project. Giorgio Armani also donated $1.43 million dollars to four hospitals in Rome and Milan, as well as to the Civil Protection Agency, while French luxury group Kering – parent brand of Gucci and Bottega Veneta – has donated 2 million euros to help the fight against the coronavirus outbreak. Prada's CEO also came to the region's aid by donating two full intensive care and resuscitation units each to three Milanese hospitals.
As supplies of Personal Protective Equipment and consumer goods like hand sanitiser run dry, big brands are putting their hands up to lead the pivot to resource the world with what it needs.
Luxury cosmetic companies like LVMH Moët Hennessy and Sisley Paris opened up perfumes and cosmetics manufacturing plants to produce hand sanitiser free of charge to French health authorities. Locally in Australia, our oldest distillery supplied the Queensland Government with enough hand sanitiser to resource the state's schools and frontline workers. iPhone manufacturer Foxconn also pivoted early in the crisis to help produce protective masks, upon realising global supplies were dwindling.
Essential medical equipment has been found in unexpected places, too. An Italian company successfully used a 3D printer to transform scuba masks into functioning respirators. Meanwhile, car giants have stepped up to help leverage their manufacturing systems to produce ventilators as ICUs across the world are drastically under-resourced. From necessity comes invention.
Community and quality time
Perhaps the most unexpected reason to smile in these times of darkness is the sense of community that's come from such hardship. On every street across the world, neighbours are banding together. Systems have been developed to get food and supplies to those who are vulnerable. Whatsapp groups have been set up to provide round the clock emotional support to the lonely, and 57% of Aussies say they're spending more time connecting with loved ones on the phone. Over 400,000 volunteers signed up to the Folding@Home program to use idle computer power to support the scientists at the helm of critical Coronavirus research.
In a world that fosters an 'every man for himself' mentality, a level playing field has been a welcome marker of true community spirit.
Vacant hotels has seen a never-before-seen shift in Australia's approach to homelessness, as thousands of the country's most vulnerable are trading cold nights on a park bench for 1000 thread count sheets at 5* hotels. With 30 days of accomodation in the initial offering, governments are looking to extend the services and increase accessibility to safe accommodation. Students in Brisbane have also done their part to help those experiencing homelessness, with almost 300 students agreeing to move out of their self-contained accommodation to free up space for those in need.
Australian homes are reaping the rewards of a slower pace of life, too. Aussie families have gone from corporate rat race to family breakfasts and park walks at noon on weekdays. As experts speculate as to the lasting effects the pandemic could have on children, many are citing more time at home, more relaxed family interactions and additional quality time together as the memory that will stick.
We see a faltering economy, losses of loved ones and worrying uncertainty. And yet, despite the darkness, Aussies have reported sustained happiness levels when compared with May last year. What's more, when we look into the average Aussie lounge room, we see one of arguably the best upsides of the crisis. Home cooked meals, fights over the remote, family walks, patience, compassion and an all-bets-are-off attitude sees Australians finally granted the thing they've been stripped of for so long – time together.
Related Blogs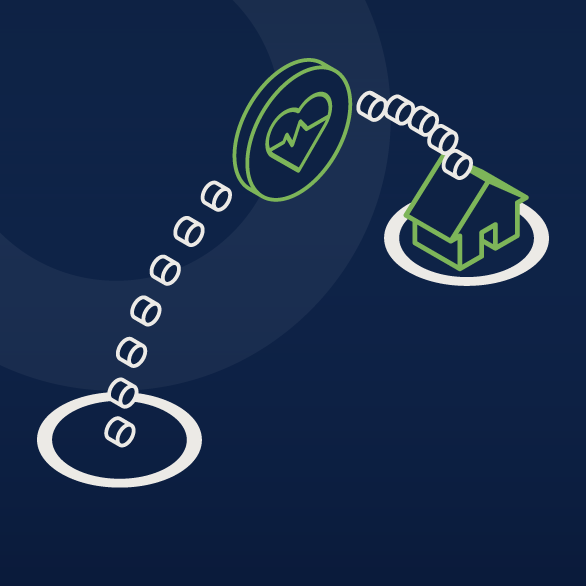 Safety and wellbeing in remote working
Never has the focus on safety and wellness for you and your team been more important. At Judo Bank, safety and wellness is fundamental to our ability to steer the team safely through these troubled waters. We understand that not all SMEs have the benefit of a fully resourced HR function, so today, we're sharing some insights from our HR team, on how to protect and nurture your people during these difficult times.