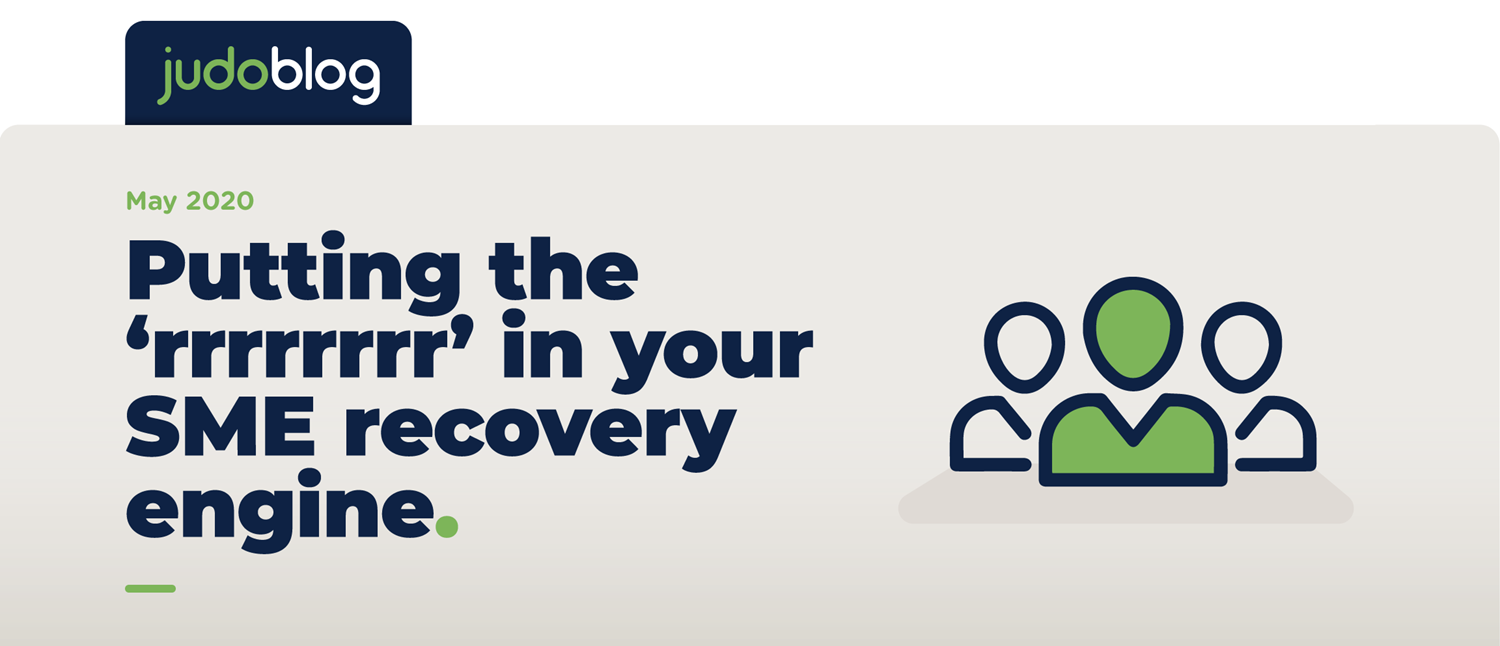 "Recently, I was delighted to join Frank Versace and the Judo Bank team for a webinar with the enterprising women and men who have selected Judo as their best ally in pursuing their SME goals. The following 8-step 'r' plan, is not pirate-speak, but useful straight-talking suggestions about what SME owners and leaders could potentially do when it comes to planning a post-pandemic course of action. The thoughts and opinions expressed here, are put forward with best intentions. Hopefully they'll trigger 'path-forward' ideas within the SME community, which in my mind is worth sharing and exploring."
The Hon Bruce Billson, Independent Director – Judo Bank, Former Australian Small Business Minister
Step 1
Realistic damage assessment
A frank and honest assessment of your starting position is needed as you lead your business into the next phase.
How have your business fundamentals weathered the Covid-constrained phase? Are there parts that have flourished or perhaps floundered, or did you come up short in some areas?
How are your finances – really? Have you revealed any pandemicproof revenues and customer channels? Where have you found cost savings that fail the 'necessary and essential' test?
It may be that your customers have changed, and if so, is this change likely to stay? You may have disrupted or disturbed your own business model, perhaps bolstered an on-line play, or someone else has made a move that you think is clever and potentially profitable in the 'new normal'.
Do you anticipate any on-going restraints by way of official rules, customer expectations or hesitations?
And, ask yourself and those near to you, just how are you?
Step 2
Revisit and Revise your business plan
Anything that shakes up the global economy can certainly bump your SME off-course. Or you may have discovered a new course to navigate these tumultuous times.
Have you unearthed a new work model and/or are the 'work arounds' you devised worth keeping?
Perhaps you have observed a change in your market, found new ways to delight customers and deliver value, or have responded well to a change in the competitor landscape? As helpful as good planning is…there is no substitute for customers. Reflect and get some trusted advice as this might be a 'game changing' moment. Is what you have been doing still a step in the right direction toward your longer-term enterprise ambitions and your SME vision?
What does this mean for your business plan? At a minimum, you have an altered business environment and perhaps a new business model. The 'starting point' for your plans may now be a world away from the trajectory in February. Maybe you find your SME where you don't want it to be, so what's a credible plan out?
And maybe, if you were feeling heavy 'headwinds' before Covid-19, is succession or exit plan part of some hard conversations?
Step 3
Relaunch Resourcing
I'm not sure we can count on an elastic-type rebound. Expect more of an uphill climb, a Nike swoosh or even a U-shape. Either way, expect a tough 'road out' for your SME.
SME owners and leaders will need to restock, renew service execution capabilities and systems, check their tech and revisit service input dependencies and supply-chains so you are 'green light' primed. It is far better to know about gaps and delays beforehand, and to have costed and secured the funding need to fuel the relaunch. Finance is the 'oxygen' of enterprise.
And be sure to check in with the [Safework Australia website](https://www.safeworkaustralia.gov.au/ collection/workplace-checklists-covid-19), to work through what you need to do within your businesses to keep customers, client, staff and suppliers Covid-19 safe.
Step 4
Return Runway
Shape, mark and measure what the runway to returning your SME to full operations looks like.
Plan out the timeline for re-opening, when will staff return and how will you ensure the best contribution of your team, the sequence of key steps and the plan for your return and onward success.
Set some goals, priorities, KPIs and timelines, with key review points to keep you on track. This can be tough to stay focused on working 'on' the business as well as 'in' the business when there is so much going on and uncertainty.
It's why I love plan progress, action-step tracking and business owner behavioural change tools like Silver Lining Action Plan, devised by my business associate and valued friend, Carissa Reiniger.
Step 5
Revise your budget
It makes sense to take stock of your thoughts and conclusions from steps 1-4 and all you have learned to date to re-base and revise your budget.
Operational costs and revenues, scheduled re-launch steps, returning staff and the value and duration of Government and lender support needs to be factored in. A conservative estimate on sales/revenue would accommodate an initial 'quiet' return if your operations have been closed or substantially scaled back.
What do your renewed forecasts and budget projections mean for 'cash burn' before a return to a dependable cash positive position of your SME, and the 're-launch' funding requirements for the months to come?
Step 6
Relationship and Renewal Marketing
There is a palpable sense that with Covid-19 'we're all in this together'. This co-dependency has extended to what I call a 'co-dependent economy' where local communities are recognising that livelihood opportunities in their communities depend on viable local enterprises.
Traditional customers, clients and suppliers are interested in how your SME is doing and if you are 'open for business'. They are interested in any adaptations and innovations you have deployed, what the 'come back' plan looks like and even how they might get behind you. You may have a new 'local' following, so love your local.
It is time to nurture and sustain these relationships, engage with people rather than 'sell' to them. The switch to sales-focussed marketing will come, but even this will be more effective if your audience knows you were there for them during the pandemic, can see what motivates you as an SME owner and leader, and how your business has played a part in the communities you serve.
People are interested in you, are thankful for your enterprise and perseverance, value and recognise your SME's contribution, and are 'invested' in your journey.
Now is the time to deepen and enhance those connections through relationship marketing, laying the foundations for positive post-pandemic commerce.
Step 7
Return Runway
It is a horrible thought, but there does exist the epidemiological possibility of a second wave or a multi-spike 'saw-tooth' pattern of infection requiring a return to 'lock-down' prescriptions. What would you do?
Now is the time to prepare for the 'next time' – whether it be caused by SARS-CoV-2, a regional event or natural disaster – to learn and perhaps do things differently.
Are your business preparations, planning and management strategies 'fit for purpose', able to deal with an abrupt half to your business continuity, or to a repeat 'lock-down' event? How might you enhance the resilience of your SME?
We've heard how cockroaches can survive just about anything – what might a 'cockroach configuration' be for your SME to keep its pulse going and ready to re-emerge and thrive?
Step 8
Refreshed and ready to rise
It has been a tough phase for many SME owners and leaders, and many have felt stretched dealing with the business and personal challenges Covid-19 has delivered. Many SMEs have shared with me that they feel 'spent' and fatigued.
Are you ready and refreshed to lead and energise others for the next sprint in your business? If you're not feeling fit to tackle the uphill climb of the recovery curve, and to go again, it may be time to invest in your wellness so you can be your best, inspire and lead others, make good decisions and be alert to what is going on so you next steps are putting your best foot forward.
While we haven't been here before, it will get better. Brighter days are ahead. I share the inherent optimism of SME business owners and leaders – so much so, even my blood group is positive!
The final 'R's:
We can Reboot
We can Restart
We can Recover