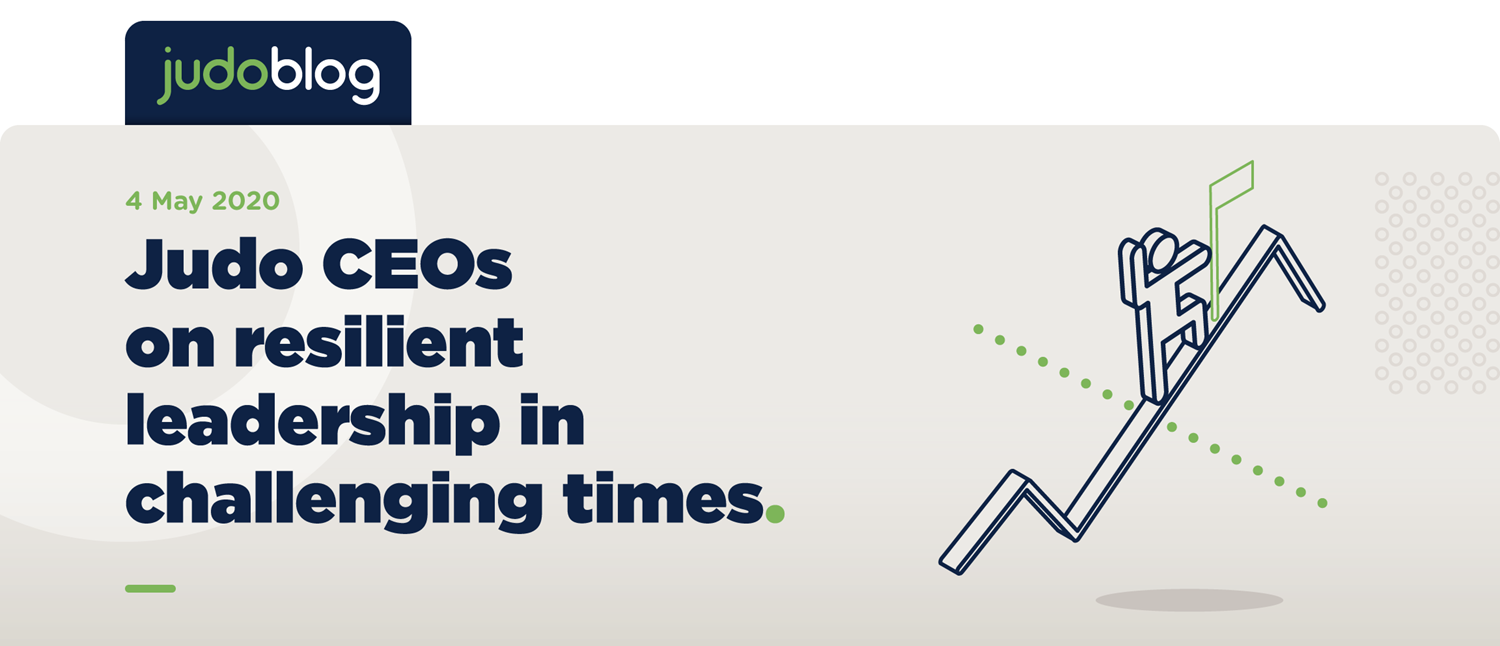 2020 has already delivered countless history-making challenges for businesses and individuals – and we're barely half way through. Judo Bank CEOs Joseph Healy and David Hornery have tackled the crisis head on, with a focus on leading their people and their customers through these difficult times with integrity, passion and razor-sharp focus.
In a recent webinar, Joseph and David shared their leadership insights with Samantha Martin-Williams from the Trans-Tasman Business Circle. This blog shares key takeaways on resilient leadership in challenging times, including how they've prepared Judo people to brace for impact, and how the client remains at the forefront of every decision.
Leadership in a disruptive business model
Joseph Healy and David Hornery have a long history together as colleagues at some of Australia's biggest banks. With a passion for SME banking and a shared belief that the financial sector needed a major shift in focus, Judo was born from decades of experience in a broken banking system.
Resilient leadership spearheads Judo's very existence. Joseph and David had a vision of better banking, and they've brought that vision to life over the past few years. "We're about relationship banking", which as Joseph explains was "something that was in increasingly short supply since the industrialisation of the banking sector."
Operating an industry-disrupting business model requires resilient leadership at its core. "How we differentiate ourselves is at the forefront of our minds," explains Joseph. "We don't want to be a mini-me of the bigger banks, so we continue to push our difference."
Your people are your power
"Our people have been a critical part of Judo since day one. Specialised relationship banking requires a high calibre of individual, with a skillset that enables them to deliver the service offering that makes us who we are."
"Banking is first and foremost the business of managing risk," explains Joseph. "Our people need to be experts in risk management, whether they're on the front line writing loans for clients, or in our junior team. We hired people with a genuine passion for SMEs," Joseph said, "and combined this passion with high calibre expertise, demonstrated through a 3-hour exam and a four-stage interview process."
Judo has carried through much of its insightful leadership through the challenges that have arisen as 2020 has unfolded.
Leading through uncertainty
"Leadership at a time of uncertainty requires true resilience. It's up to us to protect our people, our clients, our shareholders, and in this case, our economy."
"As a young company, we're still in the process of establishing a core company culture. It's a case of trying to make people feel part of the organisation while at the same time managing and coping with what is a huge experiment in terms of working from home. In established businesses, cultures and norms are already well identified, and that can carry through to a remote working environment with relative strength. For Judo, it's been a conscious effort to ensure empathy and empowerment for all our people, while making sure they're adequately resourced to do what they do."
"In crises like these, leading with empathy is critical." David explains, "It's all about the tone from the top. Setting a gold standard support system from the top down in your business and ensuring that it's carried through all systems and management structures will strengthen your company culture immensely."
Judo has set a regular communication system for staff, opening the dialogue and prompting feedback. Joseph and David also do check in calls to individual staff regularly, to make sure they're okay and comfortable.
"A concept of calm, clear, progressive leadership is important at times like this," says David. "We're promoting a culture that involves asking the question – are you okay? Understanding that not everybody deals with this in the same way is important."
And it's this empathy that creates lasting impact on a culture. "If you're calm, considered, open and transparent, your people will be too," David concludes. "We're giving our people the sense that this will strengthen our culture. Often in times of adversity we find that we've got strengths and qualities that would otherwise take longer to evolve."
"Ensuring our people have the tools they need to thrive has been a key consideration, too." From its inception, Judo has built its own systems using cloud-based technology, shaking up the legacy approach that many banking professionals are used to. "The feedback from our people is that the technology is truly cutting edge. We wanted to create a system that enabled our bankers to spend 80% of their time with clients, not stuck navigating back end legacy technology," explained Joseph. "This has helped us adjust to a remote environment without being held back by technology."
Leadership with clients during uncertainty
In a customer-facing and customer-led environment, the onus is on businesses to lead them through uncertain times, too.
"For us, how we look after our customers will define our reputation," said Joseph. "Empathy is key with customers."
The Judo team went through internal workshops and training about how to approach customers during times of hardship. "We're no longer able to go and see customers, which means empathy through body language and physical presence isn't translating. We're focused on bringing that empathy, clarity and realistic support to our virtual communications."
The presence of training and visibility of seniority during this time has been pivotal for Judo's razor-sharp focus on client management. "Our bias is helping customers manage these conditions," Joseph said. "Keep in mind it's been 30 years since the last real economic crisis in Australia. Many of our bankers and our customers haven't faced something like this before."
Authenticity is vital. Customers are experiencing hardship, stress and worry, both in business and their personal lives. That's why Judo is focused on not only getting them through the crisis, but out the other side with strength and viability to continue on.
"It's about surviving today, and succeeding through re-emergence," explains Joseph.
Judo Bank has mobilised its team to work remotely and allowed them the resources they need to serve our clients with our high-touch approach to relationships. "In times like these, relationship banking comes to the fore," Joseph said.
Our coverage level means bankers have time to proactively support their customers, and the feedback we've been getting in the wider market is that this is rare. Joseph explains that of the many cornerstones that make up a world class banking proposition, "our focus is on coverage, availability, and consistency."
Post-GFC and Royal Commission, the wider banking market had lessons to learn in terms of its purpose and place in the Australian economy. "This time is a true test to whether banks are attuned to their social responsibility," Joseph remaked. "It will define the industry for the next decade."