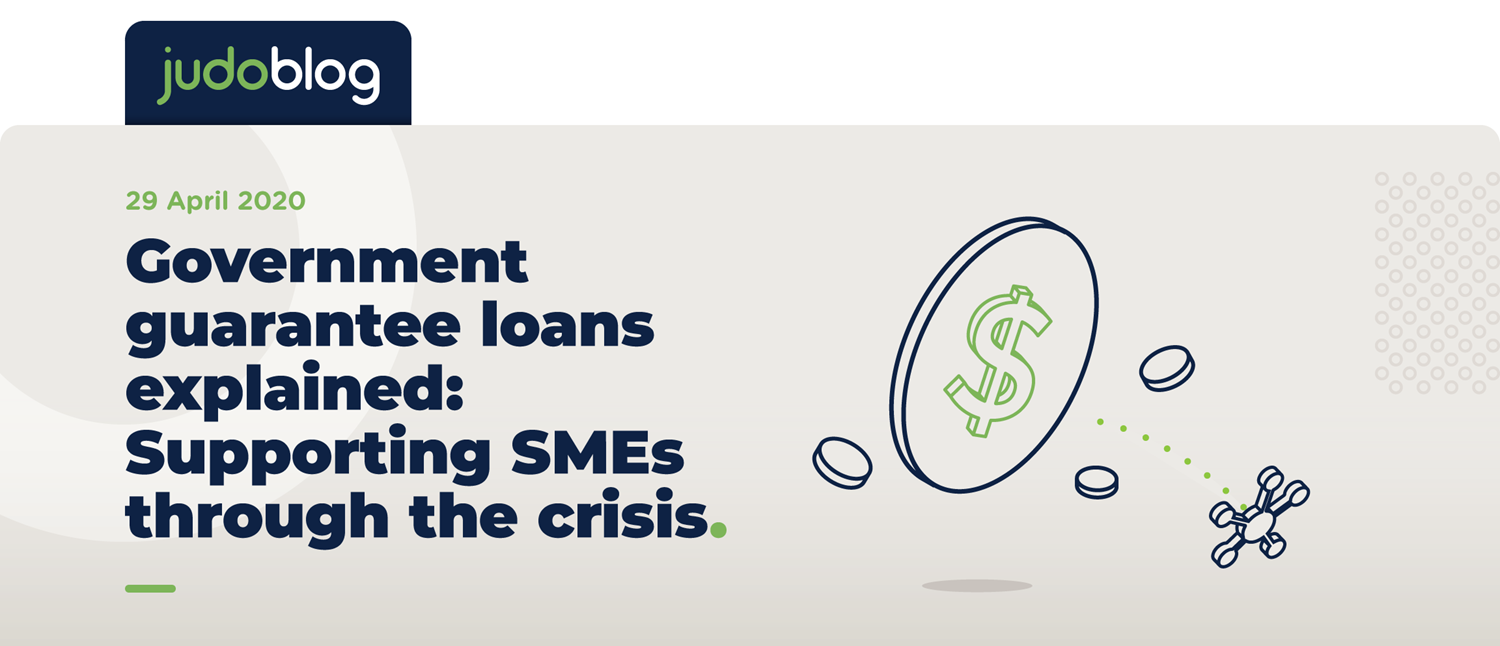 Recently, Mentored's Mark Bouris interviewed Judo Bank co-CEO, Joseph Healy to help explain the Government Loan Guarantee scheme which has been introduced as a result of the Covid-19 Crisis to help small to medium businesses. In this blog, we share key insights into how the Government Loan Guarantee scheme works, and how SMEs can get loan-ready to maximise the chances of loan approval.
How does the Government Guarantee Loan Scheme work?
As part of its response to the COVID-19 crisis, the Australian government has launched the Government Loan Guarantee scheme to support businesses through periods of cash flow difficulty. The scheme was designed to encourage banks to lend and take on somewhat risker profiles than they may otherwise have considered. The government will guarantee 50% of the loans written under the scheme, which essentially means in the event of a default, the bank will only incur 50% of the loss.
Loans under the scheme can be for up to $250K with a term up to 3 years, with the first 6 months established as a repayment holiday. The problem we're seeing is that SMEs feel the intentions are good, but industrialisation of the banking system makes the support too hard to get.
There's friction between big bank policies and the way we need to respond to this crisis. Judo Bank is prioritising SME support by utilising our flexible relationship banking system that bigger banks lost years ago. We're not following box-ticking policy frameworks. We're looking at the client in front of us and making common sense lending decisions that reflect the climate we're in right now.
When $250K isn't enough
The Judo approach can also translate to being fluid with the Government Loan Guarantee scheme, and making additional funding, longer terms and other lending facilities available to customers that need it. We're asking our clients to look at the immediate future, and then ahead to re-emergence when establishing lending outcomes. In some cases, the $250K simply won't be enough. In these instances we're ready to support clients with other lending products beyond the government guaranteed $250K.
It's important to remember that these loans are unsecured. They don't rely on a mortgage or another asset against which we can lend, which leaves bigger banks at the mercy of their rigid policies. Big banks aren't good at unsecured lending – it's often a case of 'computer says no'. Our mission at Judo is to respond differently, with better client outcomes, genuine character assessments of our clients and a frank look at their realistic business viability coming out the other side of this crisis. We know time is of the essence, so we're promising a 5-day turnaround on all decision making.
Our relationship bankers are empowered to make these decisions, which is how we can give clients an answer so quickly. It's not a case of chasing approval from the top – the bankers on the frontline are the bankers that can lend.
Unlike big banks, Judo's philosophy is to consider every client – we don't use blanket restrictions or impose industry-wide lending bans. "Even in tough industries there are good operators," explains Joseph Healy.
"SMEs are all we talk about!" Healy continues.
What rates can SMEs get on the Government Loan Guarantee scheme?
Interest rates on business loans during the COVID-19 crisis will vary from lender to lender, but from Judo's perspective, our average interest rate is 5.2% across our almost $2billion lending portfolio. "We don't have any clients on a rate higher than 9%," explained Healy.
What do SMEs need to get loans approved swiftly?
To give yourself the best chance of loan approval, be armed with these documents:
Outline of business plan and strategy going forward
Any financial forecasting
P&L + balance sheet
2-3 years worth of financial history
Clear statement about what you need and how it will facilitate a successful re-emergence from the crisis
These tangible factors will form the basis of your application. At Judo Bank, we then overlay this information with our own personal assessment of the business case. "We're not trying to make it hard," explains Healy. "We like to meet face-to-face, using video in these times of course, and chat about values, philosophy, goals, risks, and what they're trying to build in life."
"From there, we'll promise a decision within 5 days."
If you have a relationship with a broker or an accountant, they can connect you with Judo Bank. Oftentimes their understanding of your business and their reference of your character can fill in the gaps that may appear in a banker-business relationship.
Case study: $8.5million loan for Brisbane SME
Judo recently wrote a loan for a SME in Brisbane that had been banking elsewhere. They'd agreed to buy a small business that supported hotel chains and resorts, and had contracts signed to make the purchase when COVID-19 hit Australia. The business was in strife. It had committed to buy the business but no longer had the revenues to make it happen. When they came to Judo Bank, we assessed the business on its operations during normal trading conditions, looked at their unblemished track record of borrowing, and wrote them a loan for $8.5million to complete the transaction. The next 6 months will be a challenge. They know that. We know that. But we believed in the capabilities of the business owner, and believe that on the other side of this crisis lies a very successful business.
Get in touch
Judo Bank is open for business and ready to lend to SMEs that need us most. We firmly believe that good businesses before this crisis will be good businesses after this crisis. You'll be connected to one of our experienced relationship bankers, who are empowered and authorised to make lending decisions directly for you, removing lengthy wait times, stifling bureaucracy and unjust outcomes for SMEs. We're working with you to find the solutions you need to survive today, and succeed tomorrow.
Visit Judo.Bank or call 13 58 36.