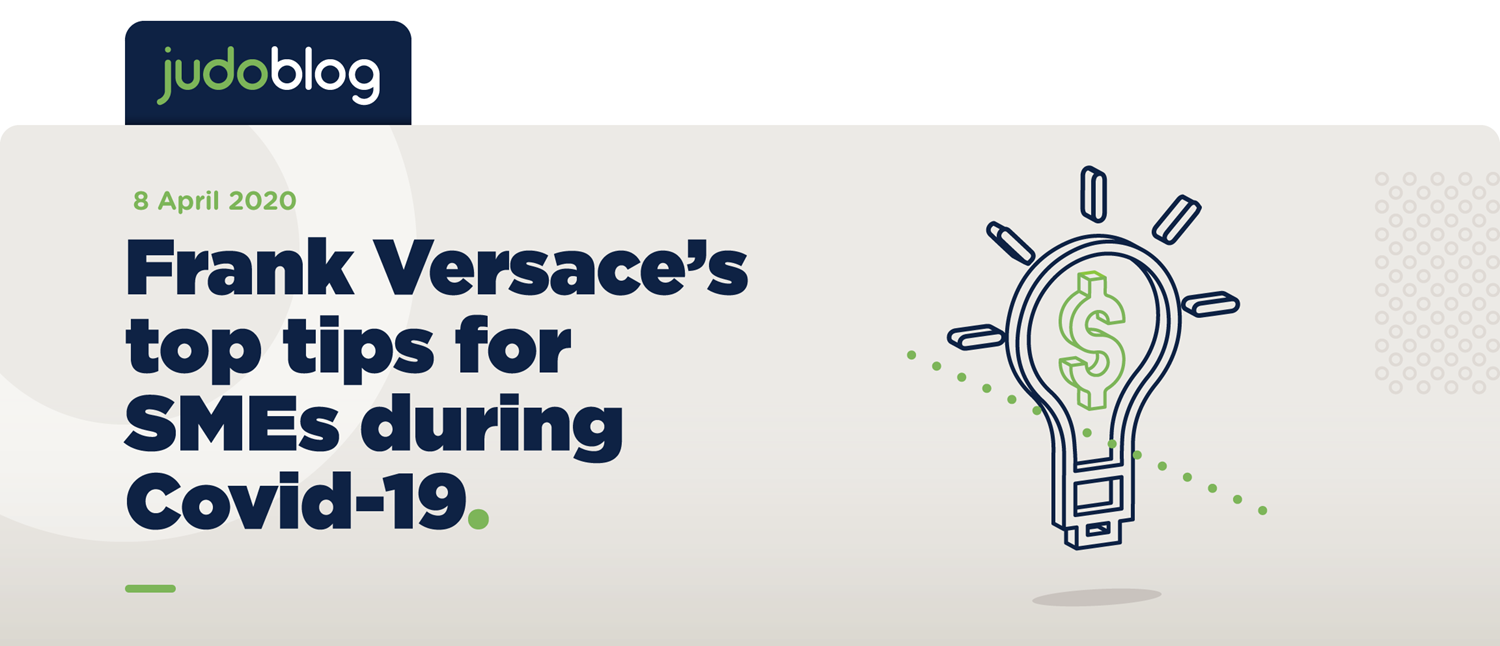 Judo Bank's Managing Director Relationships, Frank Versace, has been on the frontline of helping SME businesses navigate the COVID-19 pandemic. As a SME business owner in such unfamiliar territory of an economic crisis with public health at the forefront, we understand you need support and actionable advice on how to survive these challenging times.
Following Frank's recent webinar with Family Business Australia, we share some of his top tips for SMEs on navigating cash flow during times of uncertainty.
By now, we're all acutely aware of the unique nature of the COVID-19 crisis. Never before have we seen such rapid escalation, sharp economic downturn and an out of control impact on both demand and supply level.
Policies and government commentary around the crisis is faced with a direct conflict between the natural instincts of running an economy, and those of protecting human safety.
How banks are supporting SMEs
As Australia leads the way against a backdrop of a world in turmoil, the government is relying on banks to assume new levels of risk in order to repair our economy. With such vast numbers of businesses – and individuals – impacted on so many levels, action is needed, and fast.
"Having an imaginative solution is going to be critical," says Frank.
This public crisis is the financial sector's chance to exercise its unique social license. Looking back to the GFC, it was public funds that bailed out a number of financial institutions. Now, it's up to the banks to throw a life raft to hundreds of thousands of businesses – and we've been empowered to do so.
The Government Loan Guarantee scheme was designed to mobilise banks and get them lending to businesses. The government is essentially guaranteeing 50% of loans up to $250,000 with a maximum 3 year term, allowing banks to offer business support that would be counterintuitive in a normal economic environment.
From Judo's perspective, these loans have added an extra dimension to our SME support toolkit, and mean we can now deliver multi-faceted support with an element of backing from the government.
So, how do SMEs in trouble access cash flow and capital necessary in an environment that's essentially opaque in terms of future outlook?
Frank Versace explains that it's a 3-pronged approach.
"One certainty in a world of uncertainties is that the new normal is going to be materially different," he explains. SMEs need to access cash flow that gets them a step or two ahead, thinking about how that new normal could look for them.
At Judo Bank, we're looking at 3 fundamental principles that underpin much of our lending decision making:
Any approach taken must have a lens for viability for the next six months at least
What measures can be put in place to give the business the best chance of emerging in a strong position beyond those six months?
Consider each business individually. Cookie cutter, one size fits all approaches are simply not serving our customers at this time.
How to present a robust case for bank lending
Banks are ready to lend, and if your business needs support, it is out there for you. To strive for the best outcome possible, building out a robust lending profile to present to your bank will be instrumental in obtaining the financial support you need.
Understand your revenue impact. Have you been forced to close and cease trading all together? Have you pivoted and are now operating at 30% revenue? Be clear on the true financial impact.
Look at your immediate expenses. Which variable costs can be reduced, which fixed costs can ostensibly be variablised through deferrals and reductions?
Speak to your accountant to ensure you're maximising any other potential support that may be available to you. It's important to remember that all lending – of course – must be repaid. In such uncertain waters, items like the Job Keeper payment or government business stimulus payments may provide relief without adding to the debt profile of the business.
Get clear on your liquidity position and ensure the balance sheet is fully optimised. These aspects of your business are critical in terms of lending decision making.
From there, think about potential re-emergence models. From Judo Bank's perspective, we're basing decisions based on not only cash flow and capital, but the character and plans of the business before us. We believe good businesses before a crisis remain good businesses after a crisis, and that's why your re-emergence profile is important to us. If we believe your business will recover and thrive on the other side, there's a good chance we'll be happy to support you.
What bank support can SMEs access?
Initially lenders will look to repayment relief, in terms of principal and interest conversions to interest only, and then possibly into repayment vacations – during which interest continues to capitalise into the loan.
From there we can look to working capital funding, how we can support you to meet obligations and keep your business operating. This may be in the form of traditional working capital funding like an overdraft or a line of credit, or exploring the Government Loan Guarantee scheme and various other bolt-ons around that.
As an example, the Government Loan Guarantee scheme is valid on loans up to $250,000 with a maximum three year term. At Judo, we understand that these terms may not best suit the business we're looking at. In these instances, our bankers are authorised and empowered to create unique lending scenarios that genuinely aim to see the business survive today and thrive tomorrow. We have the capacity to offer longer repayment holidays, and additional funding on top of the $250,000 with a balloon at the end of the 3-year term that rolls back into the debt profile of the business.
Keeping businesses viable is Judo's key concern.
Get in touch
With all lenders handling COVID-19 business lending slightly differently, it can be hard as a business owner to find the tailored support you really need. At Judo Bank, we're on a mission to bring back true relationship banking, and a strong banker-business relationship is key in times like these.
Reach out to our experienced team of SME specialists for more information on how we may be able to support you. You'll speak to a real person, with real SME-specific knowledge, passion and understanding.
Today, tomorrow and together, we will repair Australia.