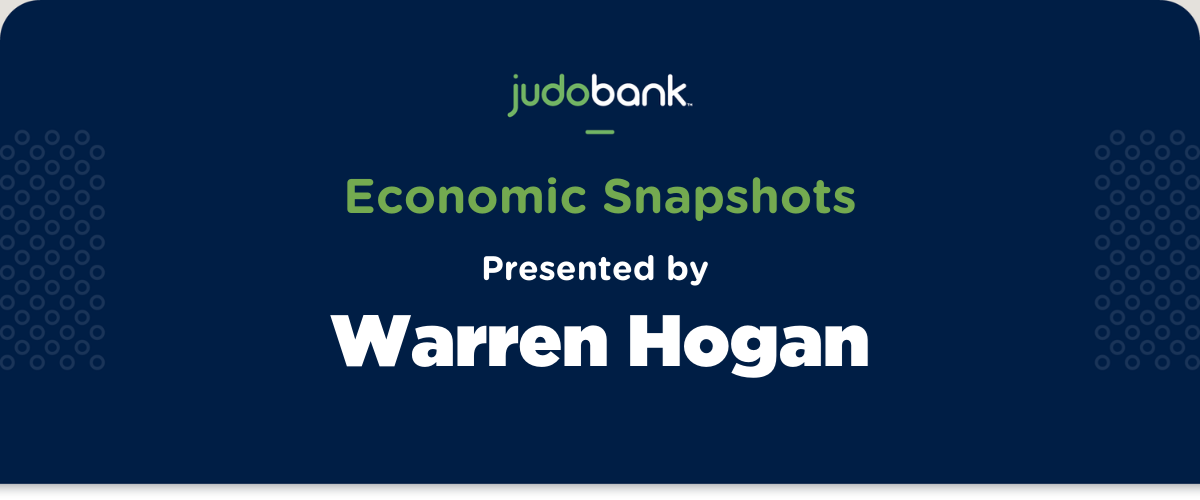 Economy on Track as Activity Surges in Q1
In one line: Confirmation that the strong economic recovery continued early in 2021 with the transition to a private sector-led expansion well underway.
Three Key Points:
Business and consumer spending, and strong international trade outcomes are driving economic growth in early 2021.
The household saving rate remains stubbornly high but that could be good for future consumption.
Overall household income growth was strong in the quarter despite the withdrawal of government support – employment growth is key to maintaining a solid economic trajectory for the rest of the year.
Chart and Analysis
The chart below tells the overall GDP story for Australia. We have recovered the pandemic losses of 2020 and are now back to new record high levels of GDP in the quarter at just above $500bn (blue line). What we need to do is get the economy back to 'where it would have been', that is, the potential level of GDP (red dotted line). I am forecasting further solid growth over the next year to get us back to potential by early 2022 (green line).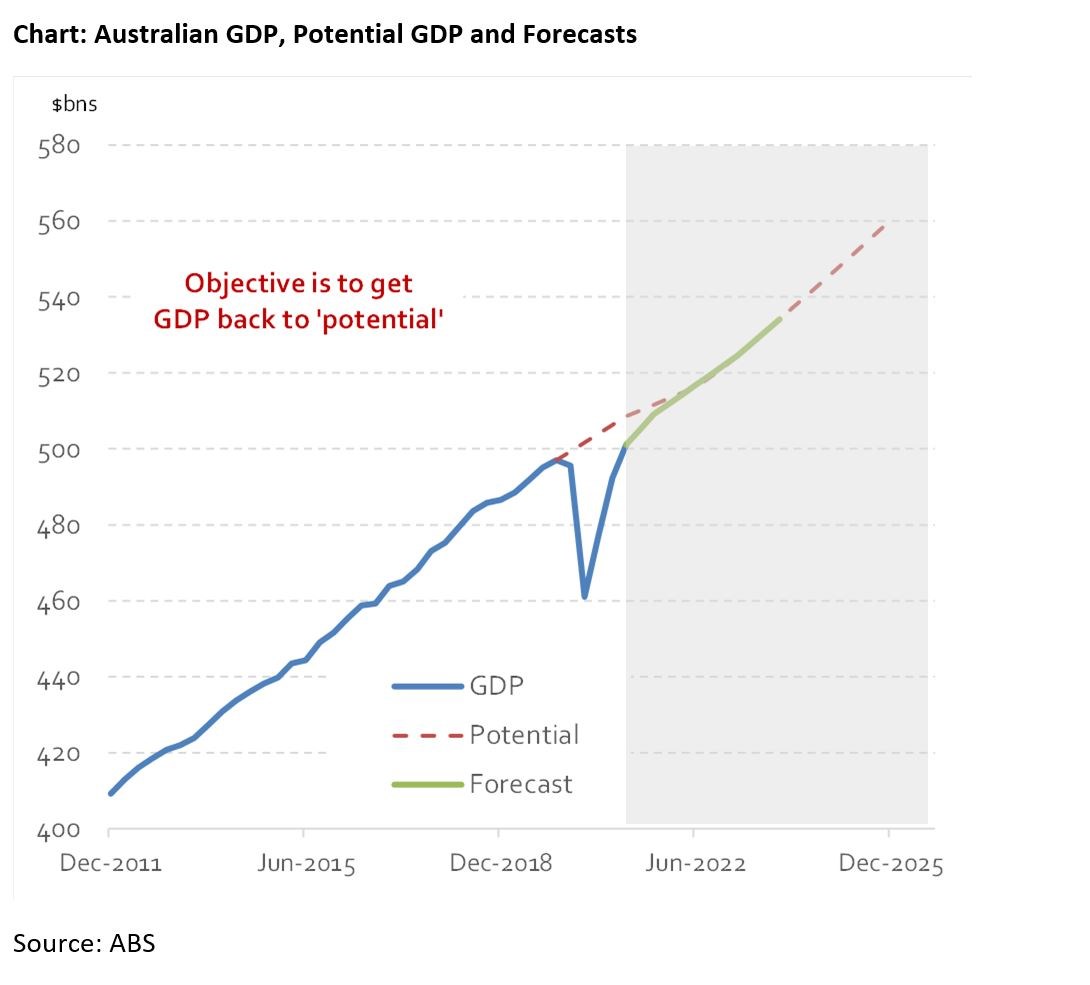 This is exactly what the government and the RBA want and I think they will get it. The sting in the tail of all of this is that once you are back to potential, if you keep growing strongly, you risk stoking inflation pressures. We will see.
Overview
GDP grew by 1.8% in Q1 following a 3.2% rise in Q4.
GDP is up 1.1% over the year. From the pandemic low in Q2 last year, GDP has grown by 8.7% in 9 months. We are now above pre-COVID levels of economic activity and showing all the signs of a private sector-led economic expansion.
A robust but still cautious consumer continues to save. Consumption rose at a healthy 1.2% in the quarter although I suspect economists were looking for a bigger rise. Spending grew at a slower pace than expected because the household saving rate did not fall by as much as many had anticipated. The saving rate did fall in the March quarter, from 12.2% to 11.6%, but it remains at the highest level in 35 years reflecting both a cautious consumer and some restrictions on spending, most importantly, the inability to travel overseas.
Big trade surpluses add to growth. The big upside surprise in these numbers was Australia's strong international trading results revealed earlier this week in the Balance of Payments numbers. Exports are strong while imports are soft. The massive trade surplus is providing a big boost to measured GDP and highlights how important the international economy has been to our recovery from COVID-19 (despite the international border being closed).
The transition to a private sector-led economic expansion is well underway. The public sector played a central role in maintaining economic activity through the worst of the pandemic last year. This laid the foundation for a strong recovery which is now being driven by private sector spending from both consumers and businesses.
Over the year to March 2021 public demand grew by 4.9% while private demand grew by just 0.9%. However, in the last six months, we have seen private spending jump 6.6% compared to 1.3% for the public sector.
Importantly, we have seen a big fall in government subsidies while the tax take is growing again. In the quarter 'Government Subsidies less Taxes and Duties' fell by more than 60%. With employment and household income strong and business investment increasing over the quarter, this is a sure sign that the wind back of emergency policies is happening in an orderly way with very little evidence of a disruption to the overall economic recovery.
On an industry basis, the star performer of the past year is the agricultural sector. Agriculture, forestry and fishing as an industry increased its output by 24.2% over the year to March. This mainly reflects the strong bounce from drought and strong demand conditions.
The other high-growth industries of the last year are wholesale trade (+6%), retail trade (+3%) and health and social services (+4%). The weakest sectors are administration and support services (-10%) and transport (-7.8%).
The hospitality industry was broadly flat over the year, which is a pretty good result given COVID disruptions to international and domestic tourism and, regular population wide lockdowns at the state level.
The various States and Territories put in an uneven performance. Victoria and Western Australia led the way with state final demand jumping 2.3% and 3% respectively. This compares to national domestic demand growth of 1.6% in the March quarter. NSW, SA and Tasmania grew in line with the national economy while Queensland and the ACT lagged the national recovery, where state demand rose by 0.5% in the quarter. The NT had a shocker, with state final demand falling 1.9% in the quarter. They will bounce back, I am sure!
Investment was strong across the economy with all the major components of investment rising except for non-residential building. Housing, plant and equipment, agricultural and public sector investment all rose at a solid pace in the first quarter.
The compensation of employees grew at a very healthy rate in Q1, up 1.5% mainly on the back of growing employment and more hours being worked. This was led by the private sector which increased by 2.4%. As we know, wages rose by a reasonable 0.6% in Q1 but it was the volume of work done by Australians that drove higher compensation over the three months.
Related Blogs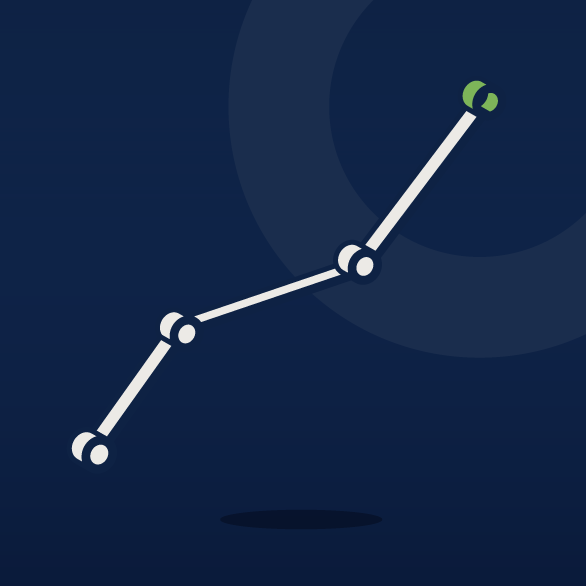 SMEconomics Report 6th Edition
2020 has been a year unlike any other with the impact of the COVID pandemic being felt across the global economy. This edition of the Judo SMEconomics report examines the Australian economic landscape and provides insights into what the recovery looks like for Australian business now and into the future.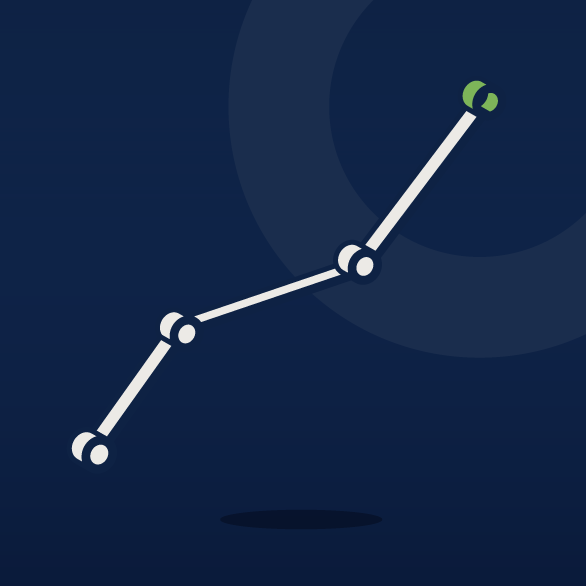 SMEconomics Report 7th Edition
Welcome to the 7th edition of the Judo Bank SMEconomics Report. After what has been a year unlike any other, 2021 is all about economic recovery and the outlook for growth. This edition of the Judo Bank SMEconomics report provides insights into the outlook for the housing market, inflation, population growth impacts on the economy and the end of JobKeeper. Along with the growth outlook for the world's two biggest economies, the US and China and implications for Australian businesses.
Disclaimer
This document has been prepared by Judo Bank Pty Ltd ABN 11 615 995 581 AFSL 501091 ("Judo Bank"). Any advice contained in this document has been prepared without taking into account your objectives, financial situation or needs. Before acting on any advice in this document, Judo Bank recommends that you consider whether the advice is appropriate for your circumstances.
So far as laws and regulatory requirements permit, Judo Bank, its related companies, associated entities and any officer, employee, agent, adviser or contractor thereof (the "Judo Bank Group") does not warrant or represent that the information, recommendations, opinions or conclusions contained in this document ("Information") is accurate, reliable, complete or current. The Information is indicative and prepared for information purposes only and does not purport to contain all matters relevant to any particular investment or financial instrument. The Information is not intended to be relied upon and in all cases anyone proposing to use the Information should independently verify and check its accuracy, completeness, reliability and suitability and obtain appropriate professional advice. The Information is not intended to create any legal or fiduciary relationship and nothing contained in this document will be considered an invitation to engage in business, a recommendation, guidance, invitation, inducement, proposal, advice or solicitation to provide investment, financial or banking services or an invitation to engage in business or invest, buy, sell or deal in any securities or other financial instruments.
The Information is subject to change without notice, but the Judo Bank Group shall not be under any duty to update or correct it. All statements as to future matters are not guaranteed to be accurate and any statements as to past performance do not represent future performance.
Subject to any terms implied by law and which cannot be excluded, the Judo Bank Group shall not be liable for any errors, omissions, defects or misrepresentations in the Information (including by reasons of negligence, negligent misstatement or otherwise) or for any loss or damage (whether direct or indirect) suffered by persons who use or rely on the Information. If any law prohibits the exclusion of such liability, the Judo Bank Group limits its liability to the re-supply of the Information, provided that such limitation is permitted by law and is fair and reasonable.
This document is intended only for clients of the Judo Bank Group, and brokers who refer customers to the Judo Bank Group, and may not be reproduced or distributed without the consent of Judo Bank.
The Information is governed by, and is to be construed in accordance with, the laws in force in the State of Victoria, Australia.