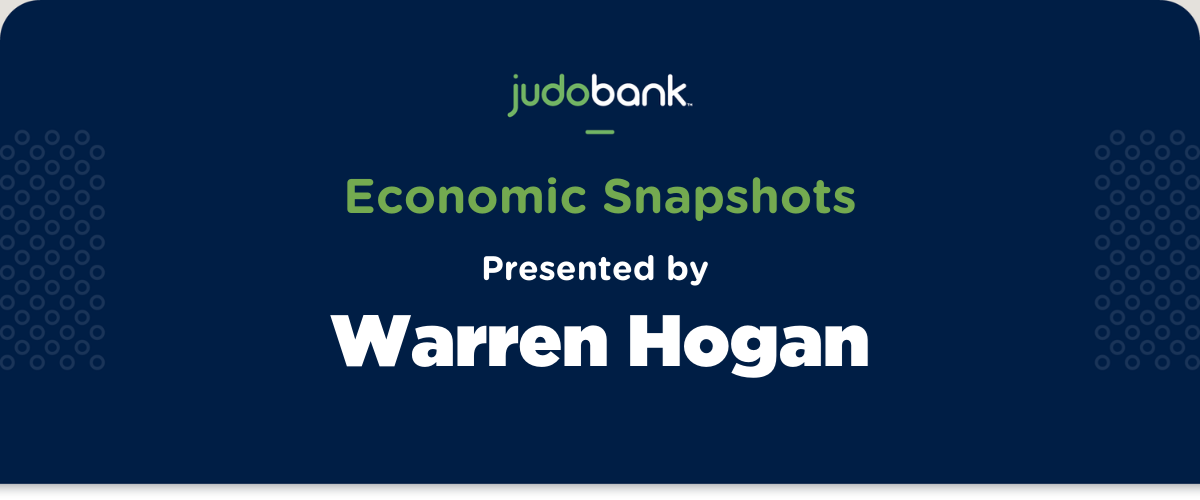 CPI (Q1): Core Inflation Falls to Lowest Annual Rate Since Great Depression
The Consumer Price Index (CPI) for Q1 rose just 0.6%, below expectations for a 0.9% rise.
The annual rate is now 1.1%. Core inflation was also soft with the preferred measure, the Trimmed Mean, rising just 0.3% in the quarter and 1.1% over the past year.
Core or underlying inflation attempts capture the inflation trend in the economy. Core inflation is now at its lowest annual rate in almost 100 years, that is, since the Great Depression of the 1930s.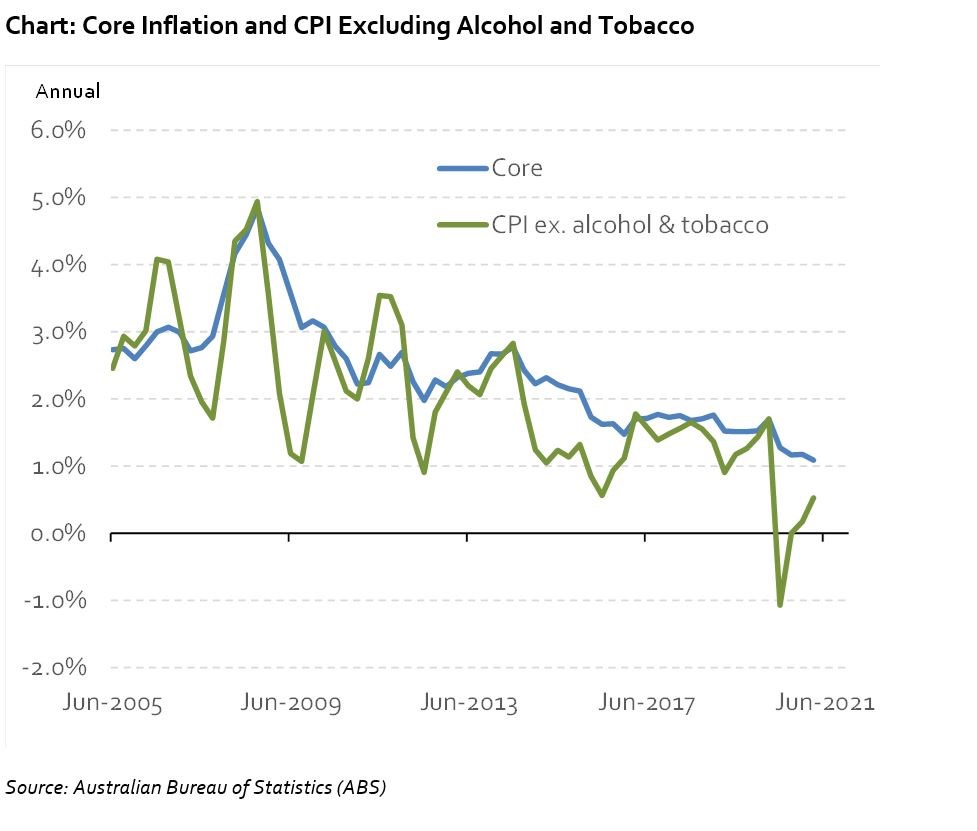 Details
Inflation jumped in Perth (1.4%) and Darwin (2.6%) largely due to government policy changes. Sydney (0.4%) and Melbourne (0.3%) were very low, also partly the result of policy changes.
The inflation 'pulse' in Australia remains low at around 1.25% to 1.5% and is looking a long way from the RBA's target of 2% to 3%. There is nothing in these numbers to encourage the RBA to change their inflation (and policy) views.
The inflation numbers should be treated with caution because:
They are backward-looking and reflect economic conditions and decisions taken in the past.

They are being heavily impacted by government policies and COVID disruptions.
That being said, the ongoing low rate of consumer price inflation does impact inflation expectations and will make it just that little bit harder for employees to argue for a decent wage increase. With inflation just above 1%, to ask for a 3% wage rise implies a big real wage increase that only the most profitable (and generous) businesses will likely pay.
Analysis
The biggest increase in the quarter came from petrol prices, which rose 8.7%. Domestic airfares fell 1.8% helping to push the "Recreation and Culture" group down 0.2% in the quarter.
Otherwise, notable price changes were mostly driven by government policy changes. For example, in Darwin, the Northern Territory Government's Home Improvement Scheme came to an end. This pushed up the category "Home Maintenance and Repair of Dwellings" by 1.1% and was a big reason that Darwin prices rose 2.6%. There are many examples of these types of policy impacts from electricity prices in Victoria to higher education costs nationally.
Supply chain cost pressures that have emerged over the last year are not showing up in retail prices. Higher transport and logistics costs, delays to deliveries and higher commodity prices all appear to have been absorbed by businesses. This could be explained by strong profitability due to Jobkeeper and strong domestic demand. Business may start to look to pass some of these costs on if they persist.
The next numbers will see the annual inflation rate surge higher as the 1.9% Q2 2020 figure drops out of the calculations. If the quarterly rise in Q2 is 0.5%, the annual rate will jump to 3.6%. This will prove temporary with the annual rate dropping back to 2% by the end of the year.
Bottom Line
Australian inflation could be at a long-term turning point. These numbers have been heavily impacted by Covid disruptions and related government policies. Isolated inflation pressures are emerging in the supply chain and the labour market. On-going strong economic growth and labour demand will need to turn these pressures into a general lift in wages growth if we are to get inflation sustainably higher, as per the RBA's policy targets.
Related Blogs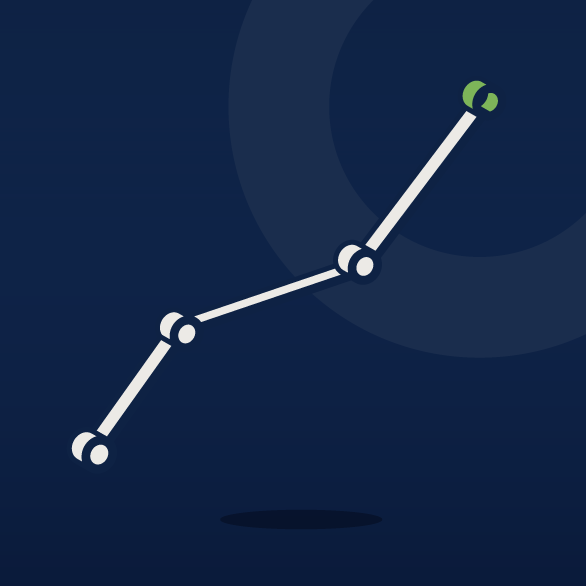 SMEconomics Report 6th Edition
2020 has been a year unlike any other with the impact of the COVID pandemic being felt across the global economy. This edition of the Judo SMEconomics report examines the Australian economic landscape and provides insights into what the recovery looks like for Australian business now and into the future.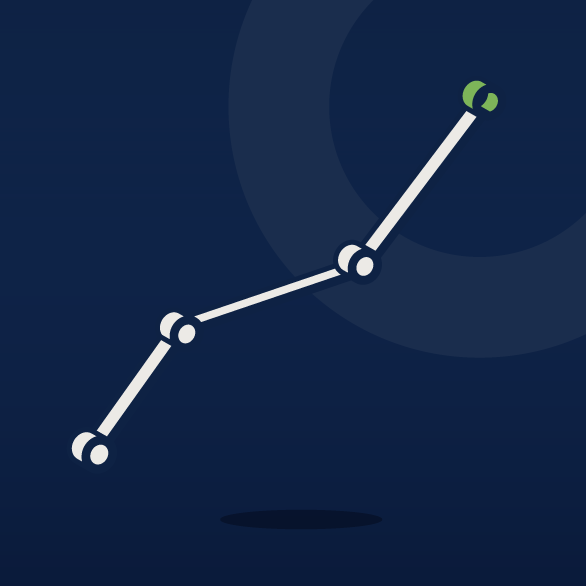 SMEconomics Report 7th Edition
Welcome to the 7th edition of the Judo Bank SMEconomics Report. After what has been a year unlike any other, 2021 is all about economic recovery and the outlook for growth. This edition of the Judo Bank SMEconomics report provides insights into the outlook for the housing market, inflation, population growth impacts on the economy and the end of JobKeeper. Along with the growth outlook for the world's two biggest economies, the US and China and implications for Australian businesses.
Disclaimer
This document has been prepared by Judo Bank Pty Ltd ABN 11 615 995 581 AFSL 501091 and Australian Credit Licence 501091 ("Judo Bank"). Any advice contained in this document has been prepared without taking into account your objectives, financial situation or needs. Before acting on any advice in this document, Judo Bank recommends that you consider whether the advice is appropriate having regard to your objectives, financial situation and needs. In particular, you should seek independent legal, financial, taxation or other professional advice and read the relevant product disclosure documents and consider them prior to making a decision.
So far as laws and regulatory requirements permit, Judo Bank, its related companies, associated entities and any officer, employee, agent, adviser or contractor thereof (the "Judo Bank Group") does not warrant or represent that the information, recommendations, opinions or conclusions contained in this document ("Information") is accurate, reliable, complete or current. The Information is indicative and prepared for information purposes only and does not purport to contain all matters relevant to any particular investment or financial instrument. The Information is not intended to be relied upon and in all cases anyone proposing to use the Information should independently verify and check its accuracy, completeness, reliability and suitability and obtain appropriate professional advice. The Information is not intended to create any legal or fiduciary relationship and nothing contained in this document will be considered personal advice or an invitation to engage in business, a recommendation, guidance, invitation, inducement, proposal, advice or solicitation to provide investment, financial or banking services or an invitation to engage in business or invest, buy, sell or deal in any securities or other financial instruments.
The Information is subject to change without notice, but the Judo Bank Group shall not be under any duty to update or correct it. This document does not make, nor purports to make, any forward-looking statements, forecasts or financial projections. All statements as to future matters are not guaranteed to be accurate and any statements as to past performance do not represent future performance.
Subject to any terms implied by law and which cannot be excluded, the Judo Bank Group shall not be liable for any errors, omissions, defects or misrepresentations in the Information (including by reasons of negligence, negligent misstatement or otherwise) or for any loss or damage (whether direct, indirect or otherwise) suffered by persons who use or rely on the Information. If any law prohibits the exclusion of such liability, the Judo Bank Group limits its liability to the re-supply of the Information, provided that such limitation is permitted by law and is fair and reasonable.
This document is intended only for clients of the Judo Bank Group, and brokers who refer customers to the Judo Bank Group, and may not be reproduced or distributed without the consent of Judo Bank.
The Information is governed by, and is to be construed in accordance with, the laws in force in the State of Victoria, Australia.