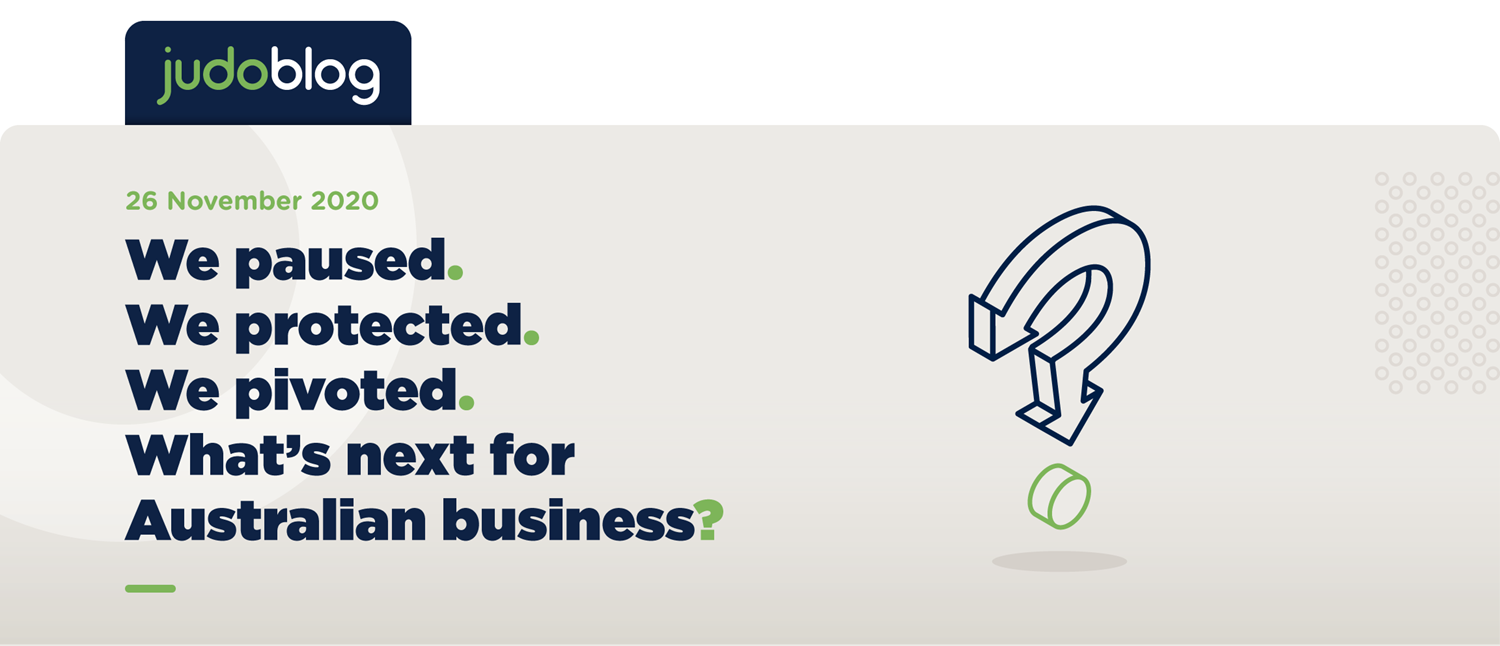 We Paused, We Protected, We Pivoted: What's Next for Australian Businesses?
2020 has seen businesses across the world navigate unthinkable challenges. Young businesses have experienced impact so great that not even those with decades of experience knew where to turn, while more established companies have seen years of success wiped out overnight. But with six months of pausing and pivoting in our rear view mirror, what's next for business? Judo shares its top tips for businesses on how to close 2020 with momentum as we adjust to a COVID normal.
Make use of the Government SME Guarantee Loan Scheme
95% of the Australian Government's $40bn funding pool for small-medium business lending remains unaccessed. If your business needs a cash flow injection to get through the haze and onto the front foot of recovery, there is lending available. As of October 1, business loans of up to $1million can be accessed with 50% guaranteed by the Government. This means more small-medium businesses (SMEs) can access the funding they need when they need it - whether it be to get back on their feet or take advantage of emerging opportunities.
"Businesses that focus on setting out a strategy that takes advantage of the significant government initiatives available, and work with their lender to position their business for the long term, have the best chance to maximise their reemergence prospects in the new normal" says Judo Bank Chief Relationship Officer, Frank Versace.
Judo is an approved lender under the SME Guarantee Scheme, and can assist with applications for business loans, asset finance or a line of credit. Whether you're recovering, rebuilding, relaunching or reviewing your growth plans, our bankers work with you to fully understand your needs both now and in the future.
"We know SMEs have been doing it tough this year, and this second phase of government guaranteed lending provides substantial support for lenders to really deliver on what businesses need to move forward," explains Judo Bank co-CEO Joseph Healy.
The 2020 Federal Budget included a number of support measures for Australian businesses, including JobMaker wage subsidies and an uncapped instant asset write-off, that can be used to support onward growth. Judo bankers will work with you to review your business as a whole, and arrive at a lending solution tailored to your circumstances that supports you to move forward from the impacts of 2020.
Think beyond survival
Back in March, we didn't know what we didn't know. Nobody had any idea what the next few months would look like, or what restrictions would mean for businesses or the economy. Now though, we have lived it. We have experienced it. We are better placed to forecast, to contingency plan, and to move forward with a plan to get things going again.
Plan for re-emergence and growth
Think about what re-emergence will look like for your business, and start to plan for future growth. Right now, for some businesses growth might feel like a distant memory, for others they are already seeing great opportunities emerge. At Judo our focus is on backing Australian SME's to recover, seize the opportunities that exist and grow well into the future. So plan for it and seek financial strategies that support your business to do so. Consider contingency plans for things that could go wrong – that's smart business – but also plan for if things go right.
As a relationship-focused bank, Judo is committed to supporting Australian businesses navigate the current environment and seize opportunities the future will undoubtedly provide. Judo Bank is open for business and ready to lend to those businesses ready to take the lead.
Australian SMEs were the backbone of our economy. Now they're the engine room of progress. It's time to get things going again, time to innovate, to adapt, to restore jobs and create new ones. It's time to get back to business and drive Australia forward.
Judo Bank. Boldly Backing Business.